Protect Your Finances and More
Personal injury lawsuits can bring about a sizable return for individuals hurt in an accident. The challenge with these lawsuits is they take time. While waiting for the chance at compensation, medical bills, living expenses and costs associated with the lawsuit quickly add up and potentially lead to unpaid bills and poor credit.  Attorney Peter Wachowski developed his Total Guard Approach to limit the financial impact lawsuits have on his clients while also helping get them as much compensation as possible. Total Guard is his unique system of processes to protect his clients during the time their case is pending as well as afterward.
Total Guard is just one of the ways Peter cares for his clients. His compassionate approach is shown throughout the entire time clients work with him, from his introductory questionnaire to his final meeting. Plus, he guarantees he will never take more money than his client makes from their compensation.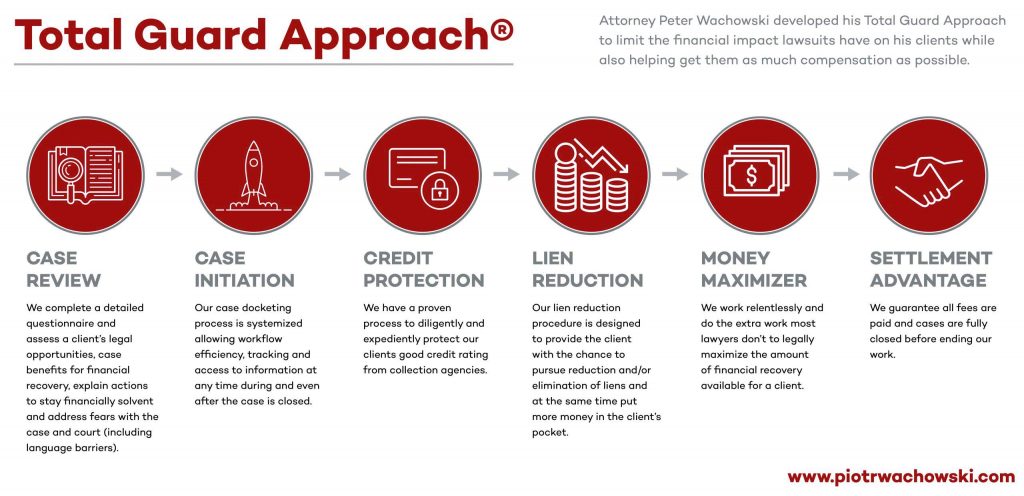 Personal Injury Case Management Process
"Total Guard Approach not only reflects the origin of my surname "watch guard" but it's also my commitment to attain maximum recovery for my clients. Total Guard is a unique approach that my firm developed and uses that standardizes and systematizes every process at each stage of a personal injury case. While cases may vary, the process is repeatable, predictable and reliable. A documented and well-managed system ensures time efficiency, eliminates errors and provides my clients with maximum recovery and no surprises once the case is closed. 

I often consult with personal injury victims who were represented by another attorney and who are trying to understand their rights regarding unpaid bills they received after their case was closed. These situations are often tied to the way the lawyer managed the common fund doctrine — basically taking their portion out of the fund and leaving the client vulnerable regarding additional bills. My commitment is to my client, who has suffered injury or loss and therefore, my firm does not subscribe to taking the maximum out of the common fund to pay ourselves. My firm is proud of the processes and procedures we have in place, the ethics by which we conduct business and our unwavering commitment to our client to get the highest level of compensation for their injury."  

Peter C. Wachowski
Personal Injury Attorney
Bellas & Wachowski